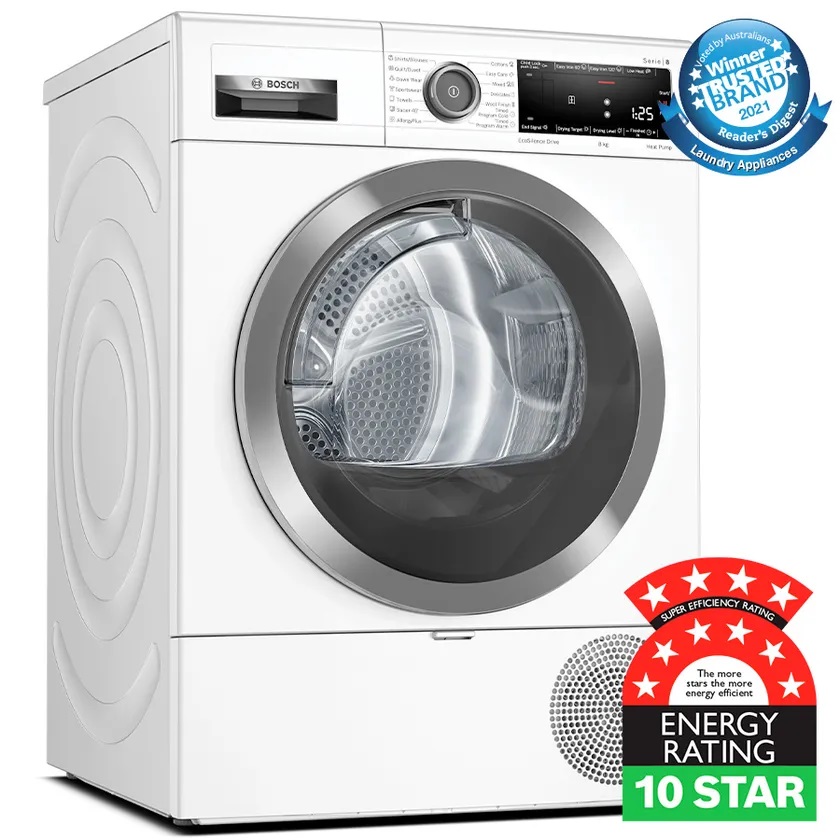 SelfCleaning Condenser: keep the condenser free of fluff to maintain top energy efficiency.

Interior Drum Light: bathes the inside of the drum in a brilliant white light
With the Interior Drum Light you have a complete oversight in your washing machine thanks to the illuminated drum.

AutoDry: automatically dries to the exact degree of dryness you'd like.
Automatically senses when your load is dried.
AutoDry will get your laundry to the exact level of dryness you want – whether that's dry enough to iron or extra-dry and ready to fold. The sensors constantly measure the temperature and moisture to protect your laundry from high temperatures that can cause shrinking and over-drying. Get the perfect dry every time.

AntiVibration Design: extremely stable and extraordinarily quiet
The innovative AntiVibration side walls are specially designed to provide more stability and optimally reduce vibration. The enhanced insulation also regulates noise levels, making Bosch dryers extraordinarily quiet even for a calm and peaceful yoga class.

Fabric-friendly drying.
The SensitiveDrying System cares for your laundry perfectly by introducing mild, warm air from all sides. This is enhanced by the soft, curved paddles in the drum, that also work to reduce creasing. Resulting in gently dried laundry that's perfectly soft and fluffy, with minimal wrinkle.

Down Drying
Special drying program for effectively drying clothing, bedspreads or eiderdowns stuffed with down.

Sportswear drying thats fast and effective
Special program for effective drying of sports and leisure clothing made from synthetic fibres, microfibre or fleece.

ActiveAir Technology reuses existing heat efficiently during the entire drying process.
$2399.00 $1999.00